Annual Hotung Lecture 2023: Cultivating Gifted Talent and Building the Future Society
(Hong Kong - 11 July 2023) The Hong Kong Academy for Gifted Education (HKAGE) celebrated its 15th Anniversary with a series of events last Saturday (8 July) at the Hong Kong Science Park. One of the flagship events was the Annual Hotung Lecture 2023, in which Professor LO Yuk Ming Dennis, SBS, JP, President of the Hong Kong Academy of Sciences, Associate Dean (Research) of the Faculty of Medicine, Chairman of the Department of Chemical Pathology at the Chinese University of Hong Kong, as well as the Li Ka Shing Professor of Medicine, shared his insights on nurturing gifted students under the theme "Big Dream, Big Impact ".
Local experts and educators were also invited to share their experiences in the parallel sessions. The theme of the Parent Talk this year was "Implications of Traditional Chinese Culture on Nurturing Gifted Children". Mr LO Wai Shing Vincent, MH, Chief Principal of Evangel College, shared how to make use of the core and positive values of traditional Chinese culture to cultivate gifted children for their holistic development. Dr LOR Kar Wing Edward, Assistant Senior Director, IoT Sensing and AI Technologies of the Hong Kong Applied Science and Technology Research Institute (ASTRI) gave a teacher lecture on "Affective Computing in Education," sharing practical teaching strategies that combine technological innovation with affective education.
Big Dream, Big Impact
Professor LO Yuk Ming Dennis, SBS, JP, widely known as the "Father of Non-invasive Prenatal Diagnosis," was awarded the 2022 ISPD Pioneer Award and the 2022 Lasker-DeBakey Clinical Medical Research Award for his groundbreaking work in prenatal diagnosis. He shared his experience in developing the "non-invasive prenatal diagnosis technology," with which syndromes and genetic diseases in foetuses could be diagnosed by analysing the mother's plasma. Later, Professor LO thought about analysing one's plasma for cancer screening. "The road of scientific research is long. Students planning to develop in the medical and innovation fields need comprehensive training in both the humanities and science subjects to cultivate their flexibility and adaptability. Therefore, students studying science should not underestimate the importance of humanities subjects. Good language skills, for example, can facilitate the presentation of research reports. In addition, as scientists, they should know how to protect their research team's patent rights." Professor LO encouraged gifted students who love science to pursue their dreams and benefit human society through research.
Traditional Culture Contains the Secrets of Nurturing Gifted Children
Mr LO Wai Shing, MH, shared how traditional Chinese culture already contains the wisdom of nurturing gifted children. He cited the example of "good questioning" in the Book of Rites, "A smart questioner is the one who knows how to start by asking easy questions and then probe into key points of the issue." "From observing gifted students, we can see their characteristic of 'good questioning,' which means being smart at exploring and researching, progressing gradually, like a carpenter starting with axing the soft part, then chopping into the hard part of the wood. As teachers and parents, let us appreciate our gifted children's attitude of being completely wrapped up in their work while cultivating the knowledge and skills of gifted children. By establishing a positive attitude, we can enhance their potential. We should identify, appreciate, and affirm their strengths and inspire them to continuously develop and improve themselves in a positive direction."
Utilising Technology to Promote Gifted Education
Dr LOR Kar Wing Edward, who has served in the technology industry for over 30 years, announced that collaboration between ASTRI and the HKAGE had already started. "All along, the ASTRI has been supporting the education sector's different needs through research, such as developing distance training applications for children with special education needs, online classroom attention monitoring systems, and AI technology to assist in screening students with learning difficulties. We hope that participants in today's lecture will actively integrate technology into their daily teaching so that the effectiveness of gifted education can be enhanced, and the gifted students' learning will become more flexible and fruitful."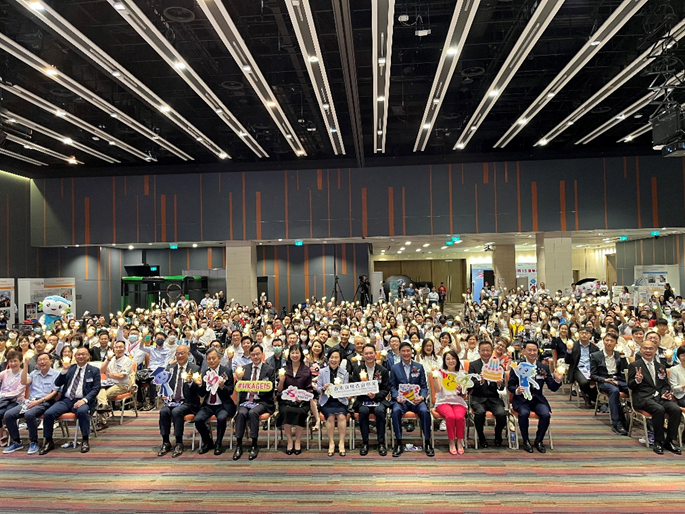 Group photo of the 2023 Annual Hotung Lecture
Professor LO Yuk Ming Dennis, SBS, JP, the Li Ka Shing Professor of Medicine, CUHK
| | |
| --- | --- |
| | |
| Mr LO Wai Shing Vincent, MH, Chief Principal of Evangel College | Dr LOR Kar Wing Edward, Assistant Senior Director, Hong Kong Applied Science and Technology Research Institute |
- End -
Update Date:2023-08-28